It's fun to learn from those who have achieved success....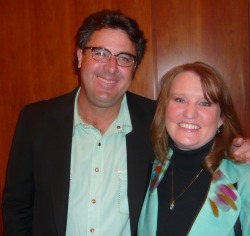 Vince Gill
Yesterday was my Birthday--well--not really. I received Vince Gill concert tickets for my Birthday in December, but the show wasn't scheduled until April. Then, as an extra bonus, the Kimmel Center in Philadelphia contacted me and asked if I would like to meet Vince Gill. Well--yeah!
Vince Gill is not only an incredible singer, instrumentalist, performer, comedian, but he's also a great human being. During the performance, he took the time to explain the meaning behind most songs he performed. It was fascinating to hear the tributes to his dad, brother, wife or someone he admired, like Merle Haggard or Ray Charles. He changed instruments seventeen times--yes, I counted--and played twenty-eight songs. He even played Pretty Little Adriana as requested from someone who'd just named their newborn after his famous tune.
After the show a handful of people were given stickers and escorted through security. What an experience. His genuine smile, easy going manner, and his ability to poke fun at himself made him very approachable. Amazing since in 2007 he was inducted into the Country Music Hall of Fame, has sold more than 26 million albums, earned more than 18 CMA awards and 19 Grammy awards-the most of any male Country artist. The first few minutes of the meet-and-greet he chatted about his new glasses; the necessity of them and his love, hate relationship with having to wear them. Then he proceeded to approach individuals to meet them, take pictures and provide autographs.
When I got my turn to approach him, I asked him the one question that had been on my mind lately. "When you are starting out as an artist, how do you keep going when the feedback is negative and the compliments are few?" The following is a paraphrase of his answer:
Listen. Listen to the critics. Not all of my work was good--every writer has a drawer full of songs that never made it, but people will remember the good ones. Achieving your goal doesn't happen overnight. Look at the Beatles or Garth Brooks; they didn't have success right away. Sometimes you almost have to get to the point where you're hungry. It has to be in you, no matter what the circumstances, or you won't be able to keep going. You have to absolutely believe in yourself and know it's the right thing for you. I knew there was nothing else I wanted to do.

---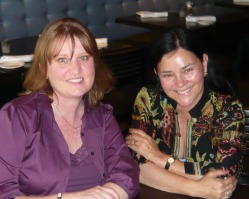 Diana Gabaldon
Last year, during Brenda Novak's annual auction for Diabetes Research, Diana Gabaldon offered a lunch meeting to the highest bidder. I was thrilled to be the auction winner, but it would be many months before our schedules would align so that East and West coast could come together. Diana was extremely busy traveling the world launching ECHO IN THE BONE, and me, well life just kept getting in the way. After trading e-mails for nine months, I can honestly say it was well worth the wait. If the chance ever arises to meet Diana, I would highly recommend grabbing hold of the opportunity with both hands.
We finally met on a beautiful sunny day at a trendy Scottsdale, Arizona restaurant. As soon as we were seated, we instantly began chatting about wine, food, family, education, and various other things. It was stimulating conversing with someone so intellectually diverse. I wonder how many people know she holds not only one Ph.D., but two, and has two additional science degrees. As time sped by, the generous, passionate, and beautiful person she is, both inside and out, flowed through her words. Our conversation took many different twists and turns before heading back to our shared passion of writing.
I was amazed to learn that THE OUTLANDER, one of my all-time favorite books, was almost never published. The publishing house simply could not figure out how to market the manuscript. In the end, the publisher decided to slot the book as a romance, even though technically this book That decision would haunt Diana for several years. It would be a long time before Diana would be able to influence booksellers to appropriately place the series in the fiction section to increase market penetration.
Changes in editorial staff and book modifications were another discussion topic. Diana remembered when she was ready to release her second book in Europe; the London press recommended she remove or edit over 300 pages. This suggestion came even though her first book sold well and the US launch of her second book had already been deemed a success. It was her supportive husband who asked her the most pertinent question, "Is the money worth living with the modifications for the rest of your life?" After some soul searching, her answer was NO. The result was a publisher compromise, with a reader return guarantee. Diana smiled as she thought of the unique book cover with the special "satisfaction guarantee" label sitting on her bookshelf. To her knowledge, not one book was ever returned to the publisher.
For Gabaldon fans, I'm sure most have one question--will there be an eighth book? The answer is YES. What intrigued me most was that Diana has a two-book contract for something in the contemporary crime genre and is currently working through some ideas. As far as I'm concerned, as long as she writes and I get to continue reading her work, I don't care what genre she chooses.
Looking back, the day couldn't have been more perfect. Thanks to Brenda and Diana's wonderful generosity, I crossed another must do off my wish list. If you would like to meet one of your favorite authors, Brenda's auction is coming up again soon, so you might take a look to see if your favorite author is offering something for auction. Who knows, you too may have a chance to win a memory or treasure of a lifetime. Hint: I know Diana has placed a signed copy of ECHO IN THE BONE up for auction. Good luck! Auction site address:
http://brendanovak.auctionanything.com/Home.taf
---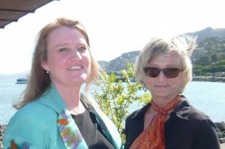 Catherine Coulter
My first view of Catherine Coulter was walking toward the restaurant exit where we were to meet for lunch. The beautiful and stylish lady moved fluidly to the front door to await her assistant, Karen, who was on her way to meet Catherine with a present left behind. Since I corresponded with Karen for weeks to arrange our meeting, I was overjoyed to say hello and give her a hug for being so good at her job.
A few minutes later we arrived back at our white linen adorned the table. The setting was spectacular. The Golden Gate Bridge and Alcatraz landmarks were perfectly framed by the window a foot away. While sharing an appetizer, a US Air Force Blue Angel on a practice run flew over the Sausalito, California Ridge. The pilot was joined by four more F/A-18 Hornets maneuvering into a formation as our meal progressed.
While waiting lunch, Catherine signed her hot off the press historical, THE VALCOURT HEIRESS. The cover was stunning, and so was her latest picture on the back cover—I can't wait to read the book. Catherine also signed one of my old favorites, THE SHERBROOK BRIDE, 1st edition from my collection. If you are curious about racing cats, don't bother researching—Ms. Coulter writes fiction after all.
Like me, Catherine has a business background and began writing as a second career. She was in New York at the time and had just left Wall Street. Catherine had determined Opera singing or Piano playing, like her grandmother and mother before her, wasn't an option and set out to write her first book. With her husband's help, she plotted out her first chapters and hadn't looked back.
As our meal progressed, Catherine gave snippets of sound advice. The following are some basic writer's rules to consider: Use no more than three exclamation points or adverbs. Always question word usage. Remove unneeded adjectives. Study your two favorite authors and understand why their writing works. Sleep with THE ELEMENTS OF STYLE, by Shrunk and White, under your pillow. When you get to "the end" get your piece in front of someone—don't let fear hold you back. Remember: absolute perfection is never achievable. On edits, the only person you should listen to is the person who pays you—your editor. Get a good NY Agent. Always read and understand what you sign. Write 5 pages a day, no excuse. Learn the industry.
As you might expect, I was nervous meeting someone so special, which for me, translates into talking too much. Catherine took pity on me, to my relief, and directed the conversation. We covered everything from book conferences to other authors, to sports. Catherine, an avid football fan, mentioned a survey she was conducting on Facebook to find the nicest NFL rear, as in buttocks. Not sure which player was ahead in the polls, but if you want to add your opinion, check it out. One of the neatest discoveries was while retrieving our cars from the valet. All of Catherine's vehicles are named and are referred to by their designated titles. How fun.
The day, just like Catherine, was fabulous. Check out all of Catherine's latest work on her official website: http://www.catherinecoulter.com/

---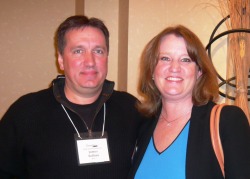 James Rollins
James Rollins, famous author, was the keynote speaker at the writers conference I attended over the weekend. I found he was generous of his time, funny and most of all approachable. Often he could be found hanging out with other authors drinking his diet coke or giving his opinions about publishing, writing or any other topic that was presented.
At times I could feel Jim Czajkowski--James Rollins real name--hovering below the surface. Jim comes from a large and supportive family, is a veterinarian by trade, and loves adventure. He admits when asked what he does for a living, he says he's a veterinarian that writes books--great books, I might add. This makes me wonder if when I have multiple books published if I will transition from a business executive to a writer. Only time will tell.
In a breakout session, he was asked several questions related to his writing process. Here is what he shared.
James normally writes about two books a year, which is a stretch, mainly because his work is so research intensive. For each book he maintains two binders, one each for history and science. Although he researches only what he needs, some information can be challenging to get. In particular he mentioned trying to research the space shuttle evacuation plan to provide accurate details when he crashed the shuttle in a scene. Like most authors, many days can be filled with nothing but research and must be limited or else no writing would ever be accomplished.
Five to six pages per day is his writing goal and that includes the days he's on the road. When he works he writes several chapters, then hands off the work to his critique group he's been with eighteen years, continues to write, then backtracks when the critiques come in. He calls this a rolling or looping writing style. When the novel is done, it's done. He admits that he rarely goes back to re-read his book. After a hundred times reading it during the writing process, he pretty much never wants to read it again. Understandable.
He says he doesn't get writers block but added a qualifier. On his computer he has a note, "I give my permission to write crap today." Just that permission allows him to continue the writing process. From experience, I know it's easier to edit, than fill a blank page.
The hour spent with James was informal, laid back and informative. He is clearly an intelligent, kind and giving individual. You can find more on James Rollins at www.jamesrollins.com His next SIGMA force book is to come out sometime in late 2010. Check it out!

---